Transport: getting there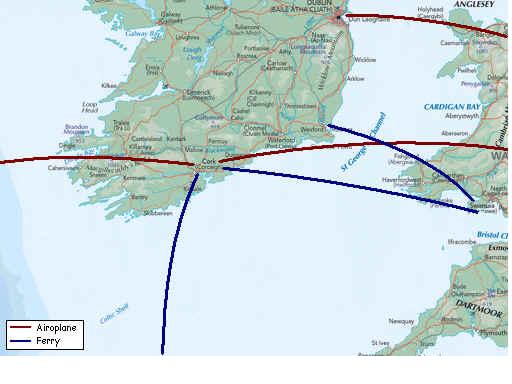 Tourist Boards:
Ferries:
-The Swansea-Cork ferry will be back in 2010. It's a nice short car journey, long sea journey
www.bringbacktheswanseacorkferry.com
-Meanwhile, there is the car ferry from Pembroke to Rosslare (5 hours drive away): www.irishferries.com
-and the car ferry from Fishguard to Rosslare:
-and the car ferry from Roscoff to Cork:
Air:
www.aerlingus.com (Heathrow, Birmingham, etc to Cork)
www.ryanair.com (Stanstead, Gatwick to Cork)
www.aerarann.com (Bristol, Cardiff, Southampton to Cork)
www.BMIbaby.com (Manchester to Cork)
Car Hire:
all the usual ones, and more- its got a lot cheaper
Taxi:
about £60 each way!
Tony O'Riordan, 00 353 214 504780/ mob 00 353 87253 0841
Salter Townsend minivan 00 353 28 36268
Bus:
One can get a half hourly bus from the airport eastwards into Cork central bus station , then get a bus 237 west (Bus Eireann : www.buseireann.ie , 00 353 214 508188) from Cork out to Leap, then hitch or walk....
or get any taxi west to Innishannon then catch the bus 237 to Leap....