The Local Area and Activities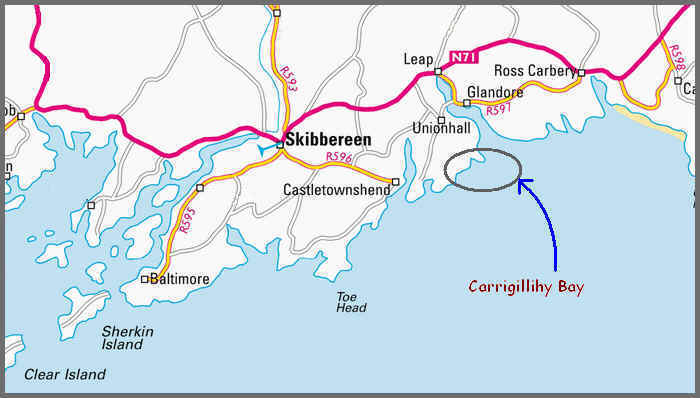 Two minutes drive, a short bicycle ride or a nice walk away is the village of Union Hall.
It has lots of pubs, some with good food, and an all-purpose shop,
where they'll order you almost anything in the world, set up an account for you, and/or take in laundry.
15 minutes drive away is the town of Skibbereen, which has good supermarkets, cafes, shops, bike-hire, doctors, etc.
10 minutes drive away are the picturesque villages of Glandore and Castletownsend, which have smart restaurants, sailing schools, etc.
Because bikes, boats and engines tend to get broken, we don't let them out.
You can hire bikes in Skibbereen, ask neighbours for a trip out in a boat, or in season rent canoes nearby.
The beaches around Carrigillihy have smooth rocks and pebbles, but there are sandy beaches near Castletownsend and Rosscarberry.
Seriously rugged walks, canoeing centres, golf courses, pony-trekking centres, whale-watching cruises, tennis courts, beautiful gardens, heritage centres, indoor pools, cinemas and so on, are all within 20 minutes drive.
It takes just over an hour to drive to Cork, where there are the best ferry and airport services, and 4-5 hours to drive to Dublin or Rosslaire air and ferry ports.