About the House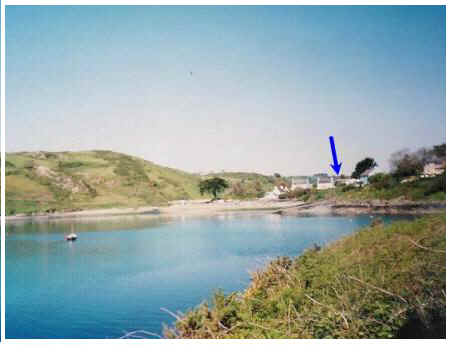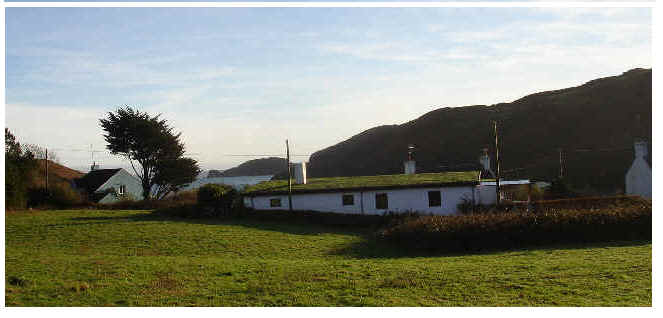 The house is a 60s Scandinavian style bungalow,
not a traditional cottage.
We put a grass roof on recently.
It is cosy,
tasteful (featured in House and Garden),
and easy to manage.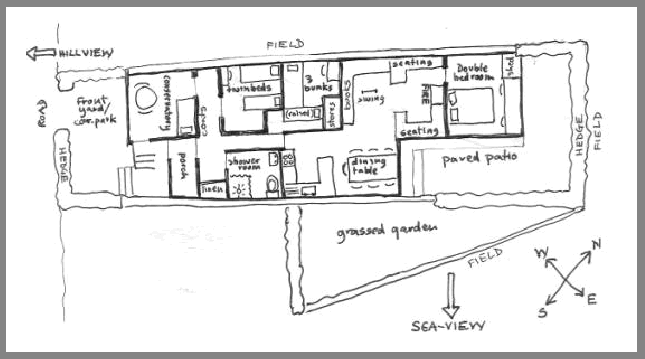 There is a big living room with sheepskins, a swing and an open fire.
The living room links to the dining room/kitchen area. The table seats up to eight.
There are 3 bedrooms, sleeping seven.
The conservatory at the front of the house is a wonderful place to watch the sun go down over the hills.
The paved patio area out back leads down to a small grassy garden with a swing seat and a glorious view of the bay.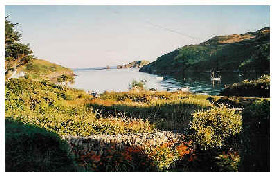 Sea view from patio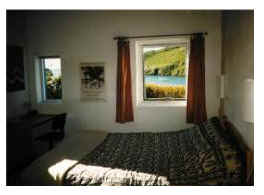 Sea view from main bedroom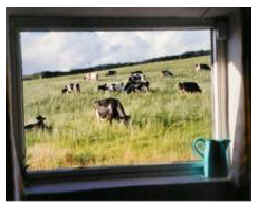 View from back window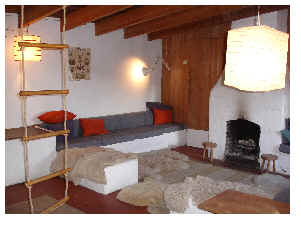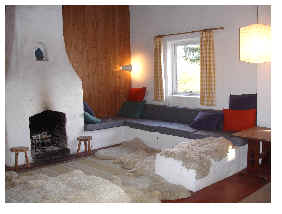 Sitting room, fire, sheepskins, swing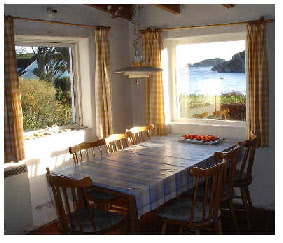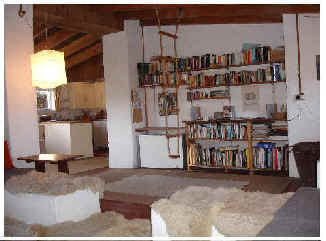 Kitchen table with sea view. Looking towards the kitchen area.
Details
1 double bed room with sea view
1 twin / double bedded room
1 three bedded bunk room
1 couch in conservatory, 1 extra Z bed, 1 (old ) travelcot
Huge living/dining area with sea views
Warm, bright conservatory
Secluded sunny patio with sea view
Small grassed area with swing seat
Duvets, blankets and bed linen supplied
2 electric blankets
Open fire for peat, coal, driftwood...(get your own)
Night storage heaters (cheap to run) and 2 plug-in heaters (expensive)
Fridge and freezer
Gas cooker
Powerful shower, hot towel rail
Parking space
(No phone but one can be plugged in (and metered) if essential, and there's a second socket e.g. for a modem.
Mobile reception very poor; but okay on high ground 1 mile from cottage
NB No TV, nor (for local eco-reasons) a washing machine or dishwasher